Are you in need of a loan for vacation, expenses or home improvements? Please take advantage of our current Heritage Loan Special. Apply online! Offer expires April 30, 2022.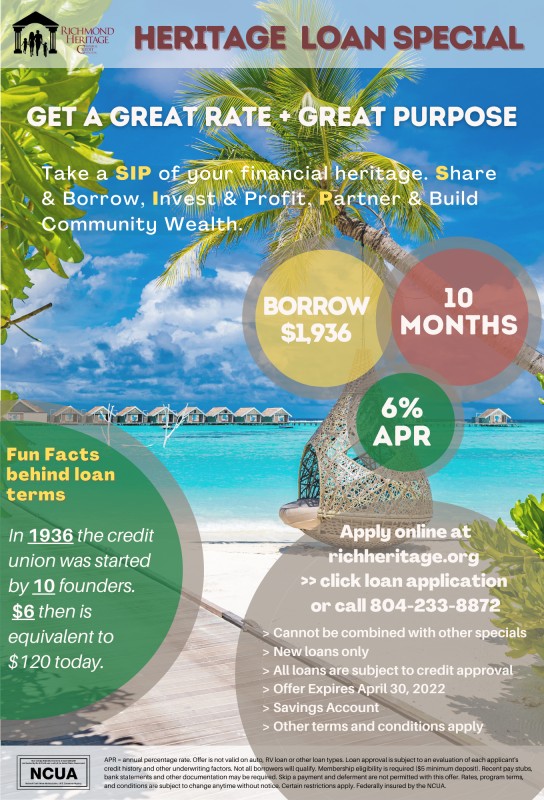 Information for Members in Response to Coronavirus (COVID-19)
We are closely monitoring developments related to the Coronavirus (COVID-19) and remain focused on delivering the banking services you need as the situation evolves.
We will update this page regularly with the latest changes to operations.
Current Branch Lobby and Drive-through service hours
| | |
| --- | --- |
| Monday | 9:00 a.m. to 5:00 p.m. |
| Tuesday | 9:00 a.m. to 5:00 p.m. |
| Wednesday | 9:00 a.m. to 5:00 p.m. |
| Thursday | 11:00 a.m. to 5:00 p.m. |
| Friday | 9:00 a.m. to 5:00 p.m. |
| Saturday | CLOSED |
| Sunday | CLOSED |
In efforts to protect the health and safety of our members and employees, we will adjust our hours of operation to provide you with convenient access to our services.
Please adhere to proper social distancing mandates when in the lobby.
Please have patience with us as we all work through these challenging times.
Shared Branching network across the country
Shared Branching allows you to make loan payments, withdraw money, transfer funds, make deposits and cash checks. However, due to COVID-19 some of the locations services may be limited. Visit sharedbranching.org or download the mobile app from the Apple or Google Play store to find a participating credit union near you. Please check location requirements before visiting the branch.
4 Easy ways to access and manage your
Richmond Heritage accounts
We are here to help you.
1. FREE Online Banking
You can view account balances, and transfer money, all right from your computer. If you are new to online banking, the instructions are listed on the website.
2. FREE ATMs (For members)
24 Hour ATM at 50 West Commerce Road
Inside The Market @25th Street during operating hours
3. Interactive Voice Response
Dial 804.233.8872. Choose option 3 to access your automated phone teller. This service allows you to perform account inquires and transfer funds. You need your account number to activate access.
4. Live Member Services
If you still need assistance, call us directly at 804.233.3680. One of our courteous staff will answer your call as quickly as possible. Please call us at 804-233-8872 and our team of Member Service Representatives will be happy to guide you through enrollment.
Online Loan and Membership Applications
Visit www.richheritage.org if you are in need of a loan. Funds for approved loans will be disbursed into your account.
If you're experiencing financial stress due to COVID-19, call or email us.
We're here to support our members experiencing financial stress as a result of COVID-19. If you have a loan with us, you may have access to our Skip‑A‑Payment program.
To discuss other ways we might be able to help, please call 804-233-8872. If you prefer to email, send your questions to donnell.scott@richheritage.org or randy.cooper@richheritage.org.
Other links to COVID-19 Information and Resources